SALES MANAGER
October 2015 - Present
My primary role as the Sales Manager is designing, monitoring, and administrating the sales pipeline for Windrush. Other duties include: marketing, customer support, video production, graphic design, branding, product management, and administrating the company's investment pipeline. My favorite thing about my job is creating engaging content with our application. I created content using Windrush to tell better stories with data, see Super Bowl Article and World Series Article. I also used our app to make updating reports on how content was doing as well as overall analytics about our marketing site.
Startup Tech Valley Pitch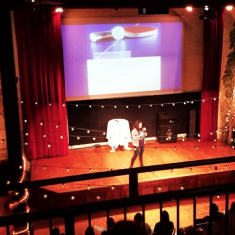 While at Windrush I was able to pitch at Startup Tech Valley in front of more that 300 investors and potential customers. In June of 2016 I moved to NYC with the company to complete the Barclays Techstars Accelerator for FinTech companies. This program receives thousands of applications and Windrush was one of ten teams accepted. Throughout the program I have met mentors and customers that give guidance on strategy and fundraising. One of my favorite projects to work on was our Product Hunt launch. Gaining almost 500 upvotes Windrush was able to make the front page, gain press, and convert inbound traffic into free trials.